Holography Classes
We are currently only available by appointment. Please call or email us to arrange your class. Online classes are now available on platforms like Zoom. Contact us for more information.
Come in and learn how to make holograms from an instructor with over four decades of teaching experience. All our classes are hands on. Our philosophy focuses on understanding rather than memorizing. Much of the time you spend here will be working in the laser laboratory, which is a magical experience. We work hard to share our passion for this amazing craft with you. Its an experience you will never forget.

Holography classes are offered most weekday afternoons and on occasional weekday mornings. All classes are scheduled on an as needed basis by appointment only. Weekend classes incur a surcharge of an additional $100. Weekday classes starting after 6pm incur a $100 added charge. We encourage 2pm to 6pm weekday classes to avoid these fees.
Most classes are one on one with a maximum class size of three people. Larger class sizes are possible by special arrangement. Contact us for information about off site holography lectures and demonstrations. All prices are per student. A 50% deposit is required to schedule a class. This deposit becomes non refundable within 48 hours of the scheduled class time, although classes can be rescheduled up to that 48 hour cutoff or by special arrangement.
Read what people who have taken our classes have said.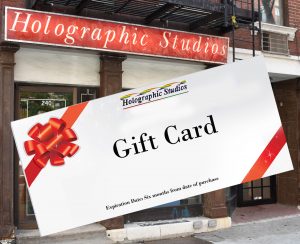 Introduction To Holography – $295 Average class time – Two Hours.*
You'll learn the basic concepts of holography in a fun and interesting manner. The focus of this hands on class is on understanding and not memorization. Best of all, you actually make a single beam reflection hologram of your own in our midtown Manhattan subterranean laser holography laboratory. And when its all done, you get to take it home to show to your friends and family. This is a hologram that can been seen in normal light, so you won't need any special equipment to view it. Our staff has had thirty eight years of experience in teaching holography classes.This two hour class is for both adults and kids. Its a one of a kind experience that you'll never forget. Many students who have taken the introductory class have gone on to win science fairs or get high honors in their school project on holography. Others have taken the class with an interest in pursuing holography as art or as a hobby.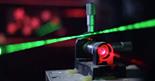 Advanced Classes – $395 each.
Average class time – Two Hours.*
Here are some of the Advanced Holography Classes we offer:

New!

ILLUSIONS – Not all illusions are actually holograms. In this class we will explore the other types of things people refer to as holograms, but are really optical illusions. You will learn the secrets behind the tricks that are used for stage performances, exhibits, and cool visuals. Among the illusions we will explore are Pepper's Ghost, Parabolic mirrors, Projection on smoke, and more. While it's not true holography, it is a fun class that will give you a working knowledge to create your own optical illusions at home.
The following are advanced true holography classes:
Interference and Vibration – How to make and use an Interferometer, why it matters and what it does.
Single Beam Transmission Holography (laser viewable) – making an On-Axis hologram.
Advanced Single Beam Holography – techniques including conical and cylindrical holograms.
Designing and Building a Home Holography Lab and Darkroom – learn the basics of what you need, where to put it, what to avoid, and alternatives to expensive lab equipment.
Choosing the Right Home Holography Lab Equipment – to achieve your individual goals.
Optics for Holography – learn how to tune a Spatial Filter, use different types of Beam Splitters, Polarizers, Wave Plates, and more.
Off-axis Reflection Holography – using two separate beams to better control your hologram.
Off-axis Transmission Holography (laser viewable) – this is the type of hologram you would use as a master for a second generation hologram.
Image plane White Light Transmission Holography – how to use a cylindrical lens to make a "rainbow" hologram. Requires first taking Off Axis Transmission Holography Class.
Image plane Reflection Holography
How to make and process Dichromate Hologram Plates
Custom made Classes to suit your particular interest
Intensive Workshops – $850/day.
Average class time – Six Hours.*
Our workshops are designed for those who are here for only a limited time and want to cover as much as possible of the basics to take home. We discuss how to make the major types of holograms with lectures and diagrams. Each day we get to cover several types of holograms based on your interests. A minimum number or no holograms are made depending upon available time constraints as well as the areas you decide you want to cover, although we do spend time in the laser lab and darkroom. The decision will be mutually agreed upon once you are here and select what material you want to concentrate upon. On average, it takes one to two hours to set up, shoot, and process a hologram. Time spent shooting holograms will limit the time to learn about other information. Most subject areas will take at least an hour or two to cover although we can go faster if time is limited. Students are encouraged to take notes and may keep all diagrams and holograms we make in class. These classes must be reserved in advance and require a 50% deposit at the time of scheduling. Reservations can be changed with a minimum of five business days notice. There is a $100 cancellation fee for Intensive Workshops per scheduled day of the workshop.

One Day Intensive Workshop – one day, $850
Two days Intensive Workshop – two six hour days, $1,700
Three days Intensive Workshop – three six hour days, $2,550
Four days Intensive Workshop – four six hour days – $3,400
One Week Intensive Workshop – five six hour days, $4,250
*Policy: A 50% deposit is required to schedule a class or workshop. Deposits are refundable up until 5 business days prior to the class or workshop. Balance of the payment is due on the day of the class prior to starting the class or workshop. In the event or inclement weather or other emergency resulting in a temporary closure, classes and workshops will be rescheduled for the following day unless other arrangements are made via email. There is a $30 cancellation fee for the Introduction to Holography Class. There is a $45 cancellation fee for Advanced Classes per day of scheduled classes. There is a $100 cancellation fee for Intensive Workshops per scheduled day of the workshop.
COURSEHORSE CLASSES: If you purchased your class on CourseHorse, then our Refund & Cancellation policy applies to your purchase. If you are entitled to a refund, or have any questions, please visit the CourseHorse site and contact their customer service team.