Group Tours of the Holographic Studios
Holographic Studios is one of New York City's most unique tour group destinations.  Located in the heart of midtown Manhattan, we are "Recommended" by TripAdvisor and rated as the Number One Obscure Museum in America by Mashable. A tour at Holographic Studios is a mix of science fiction, art, and magic.

Your group will get to see amazing 3D illusions close up and learn the secrets behind them.  Typical tours last between 45 to 60 minutes depending on the questions and answers that your guests ask.  Your tour guide will show you a variety of types of holograms from small to large and some special ones that are not on display to the general public.  At the end of the tour, all guests receive a complimentary hologram as our way of thanks. Weekend tours incur a one hundred dollar surcharge. Tour tickets are refundable up to 48 hours before the tour with written notice via email.
The Tour -Tickets cost $35/person, due to covid restrictions, we can accommodate up to 12 people in a single tour, larger groups can be split in two.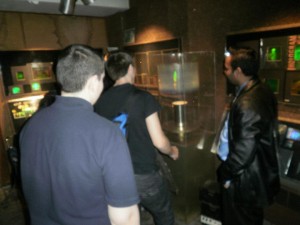 The gallery is about the size of a small boutique. There is a wide variety of types of holograms on display. Your guide will give a brief talk about the holograms you see and explain how holography and 3D works. You will see:
Images that jump right out of the hologram.
Celebrity portraits including Andy Warhol, Phyllis Diller, Isaac Asimov among others.
Holographic sculptures from Russian museums that look so real you will swear they are not holograms.
The world's largest collection of motion image holograms.
Cylindrical holograms with fully moving images that are visible from all sides.
Computer generated holograms.
Multi-channel holograms that change from one image to another as you walk past them.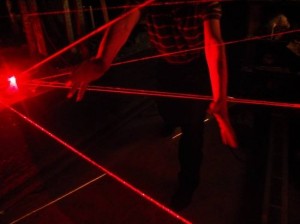 The tour includes a short visit to our subterranean the laser laboratory. A brief talk also is given about the history of the studio and how history has repeated itself here from the time this was a blacksmith's forge to its current incarnation as a state of the art holographic studio.
A group of eight to ten people at a time are escorted down to the subterranean laser laboratory beneath the gallery where they get to see how holograms are actually made. The labs are an underground labyrinth illuminated in a dim green photographic safe light with the brilliant primary color of the laser accenting the holographic process. It is a very surreal environment and an experience no one will ever forget. Principles of laser physics are demonstrated in a manner that borders on science fiction. Yet its all real.
Directions to Holographic Studios
We are located at storefront level at 240 East 26th Street, NY, NY 10010, between 2nd and 3rd Avenues on the East Side of Midtown Manhattan.
Car:
The Holographic Studios are located at storefront level in a small brownstone on Manhattan's East Side. The location is 240 East 26th Street, between 2nd and 3rd Avenues. There is both metered parking on the street as well as parking garages on every block in the area. Parking meters charge twenty five cents per ten minutes of parking time, so bring plenty of quarters if you plan to park on the street. Prices vary for the parking garages.
FDR Drive: Exit at 23rd Street and proceed west (its your only choice unless you want to drive into the East River). At 3rd Avenue make a right. In three blocks at 26th Street make the right and you are there.
Queens Midtown Tunnel: Get in the left lane. When you emerge in Manhattan make the left turn towards 2nd Avenue. You will get off on a side street and need to go right at the corner of 2nd Avenue a half block down. Continue on 2nd Avenue to 26th Street. You can park wherever you find a place, or you can make the right turn onto 25th Street. Then make the right at the first light (3rd Avenue) and go for a block and make a right again onto 26th Street. This is our block. Park at the first available spot.
West Side Highway: Exit at 23rd Street and go East until you reach 3rd Avenue. Make a left and go three blocks and turn right and you're here.
Lincoln Tunnel: Get into the right most tube of the tunnel. Stay in the right lane and make the right turn when you exit the tunnel in Manhattan. This exit ramp will lead you South. Go as far south as you can and then follow the local road a half block West (left turn) to 9th Avenue. Turn right and go until you reach 26th Street. Turn left. Continue on 26th Street until you reach Third Avenue. Go straight through the intersection, we are on the right side of the block almost the whole way down just before you reach 2nd Avenue. Park your car wherever you can find a spot.
Subway:
The closest train line is the Lexington Avenue Local – the Number 6 train. You can take either the 23rd Street or 28th Street stations. You will be on Park Avenue. Head East. The next block you pass should be Lexington Avenue. (If you find yourself on Madison Avenue you have gone West by mistake, so in that event you should turn around and head the other way.) When you reach Third Avenue, walk over to 26th Street. We are located near the end of the block on the right (South) side a few building before 2nd Avenue.