Class Trips to the Holographic Studios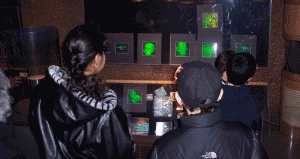 Visit the World's Oldest Gallery of Holography
The Tour – $350 per group (not to exceed 12 people at a time – larger groups can be split into two). Tours are available on weekdays. Weekend tours incur a one hundred dollar additional fee.

A class trip to the Holographic Studios is a unique experience. Visitors get to see amazing three dimensional images created in a subterranean laser laboratory located below the gallery. Imagine viewing images that appear fully three dimensional without wearing those funny 3D glasses. Its the magic of holography. Its like nothing you've ever seen before.

We begin your visit with an brief introductory talk by your host, Doctor Laser. He comes out dressed in a long white lab coat. Doctor Laser will tell the visitors all about the holograms they are looking at. After the group has had a chance to see the holograms, he begins his talk which is both informative and entertaining. Your group will learn all about how we see in three dimensions. Doctor Laser will ask people from the group to participate in a few simple demonstrations that never fail to bring a smile. After all, holography is a mixture of art and science, and we try to show how it is used in both ways. At the end of the talk Doctor Laser gives out free hologram stickers to all who attend, with the group leaders getting a special hologram. Follow up materials are available for group leaders to talk with the class about their experience back in the classroom.

The gallery is about the size of a small boutique. There is a wide of variety of types of holograms on display. Your guide will give a brief talk about the holograms you see and explain how holography and 3D works. You will see: Images that jump right out of the hologram. Celebrity portraits including Andy Warhol, Phyllis Diller, Isaac Asimov among others. Holographic sculptures from Russian museums that look so real you will swear they are not holograms. The world's largest collection of motion image holograms. Cylindrical holograms with fully moving images that are visible from all sides. Computer generated holograms. Holographic art. Multi-channel holograms that change from one image to another as you walk past them. Hologram stickers and novelties.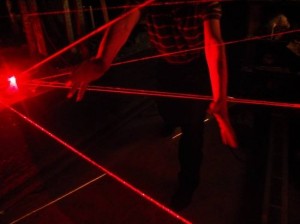 After spending time in the gallery we have a short tour of the laser lab. A small group is escorted down to the subterranean laboratory beneath the gallery where they get to see how holograms are actually made. The labs are an underground labyrinth illuminated in a dim photographic safe light and the brilliant primary color of the laser accents the holographic process. It is a very surreal environment and an experience no one will ever forget. Principles of laser physics are demonstrated in a manner that borders on science fiction. Yet its all real.