Guided Tours at the Holographic Studios
Our tours are once again available. Please call or email us to arrange your tour.

Take a tour of the world's oldest Gallery of Holography and Subterranean Laser Laboratory where science fiction meets science fact.  We are a recipient of "People Love us on Yelp," and are "Recommended" by TripAdvisor as well as having been rated as the Number One Obscure Museum in America by Mashable.   Come in and visit one of New York City's best kept secrets.
We are located in Midtown East Manhattan in a former blacksmith's forge. Once here you will discover a wide variety of holographic art on display. Jason Arthur Sapan, better known as Doctor Laser, one of the original pioneers of holography will entertain you with the fascinating wonders of the holograms you will see. He will explain the mysteries of holography and other types of 3D work.
You will get to interact closely with the science and art behind the magic of holography.
On your tour you will see:

Images that jump right out of the hologram.
Celebrity portraits including Andy Warhol, Phyllis Diller, Isaac Asimov among others.
Holographic sculptures from Russian museums that look so real you will swear they are not holograms.
The world's largest collection of motion image holograms.
Cylindrical holograms with fully moving images that are visible from all sides.
Computer generated holograms.
Holographic art.
Multi-channel holograms that change from one image to another as you walk past them.
Hologram stickers and novelties.
After seeing the holograms, you will be escorted down to the subterranean laser laboratory deep beneath the the island of Manhattan where you will get to see how holograms are actually made. The labs are an underground labyrinth illuminated in a dim green photographic safe light with the brilliant primary color of the laser accenting the holographic process. It is a very surreal environment and an experience no one will ever forget. Principles of laser physics are demonstrated in a manner that borders on science fiction. Yet its all real.
It is highly recommended that you reserve a minimum of two days in advance for any of our tours.
With our eGift Card you can buy a tour as a present!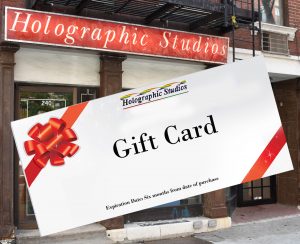 Tour time is approximately 45 minutes to an hour.
Call us at 212 686 9397 or email to book your tour today!
All tours cost $35 per person, Monday to Friday 3 pm to 6 pm. Other times can be booked by special arrangement when possible. Tours cancelled within 24 hours of the scheduled tour time will result of a forfeiture of your payment, although tours may be rescheduled up to that 24 hour cutoff or by special arrangement.
Special Weekend Tours can be arranged on demand on Saturdays, Sundays, and some holidays from 1 pm to 3 pm subject to availability. A minimum of two people are required plus a weekend surcharge of $35 per tour group (not per person) or alternatively by paying the equivalent of that minimum. After you pay for the tour please click the button below to pay the weekend surcharge.
Tours can be booked for times we are not normally open. The fee for tours after 6pm or before 2 pm is an additional $100 (for the tour not per person).

Go Private! For an additional fee of $100 per tour (not per person) you can make your tour private so that no one else joins you and your group. And as a bonus, we will extend the length of the tour to a full hour as well as revealing some of our private stash of holograms and giving you some extra hologram gifts.
VIP tours – For $150 per person you get to actually make a hologram yourself during an extended special tour here. More info on the VIP tours
And what better way to remember your tour than to get a special edition T shirt!