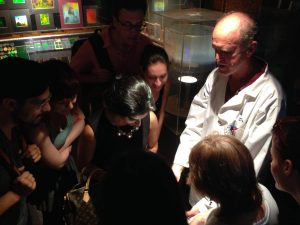 Now you can buy a ticket online to take a Guided Tour of the world famous Holographic Studios in heart of New York City. You'll lean all about the magic and wonder of holography. Not only will you get to see the holograms on display in the gallery but you'll see special ones we do not show the general public. Then you'll be escorted down to our subterranean laser laboratories to see where and how we make our holograms. Its like nothing you've ever seen. Tours last approximately one hour.

There's nothing to print out but you MUST contact us by email or phone to schedule the tour date and time so we can confirm your tour.

INSTRUCTIONS:

Once you select the number of tickets, click "Add To Cart."
You will be taken to a new page where a light blue bar will appear above the photo.
On the right of that bar in white lettering, click "View Cart."
This takes you to your cart page with payment instructions.

Tour tickets make great gifts!

Please read the full description of the tour here.