Stories of Internships at Holographic Studios
written by the interns themselves
Tasha, 2022-2023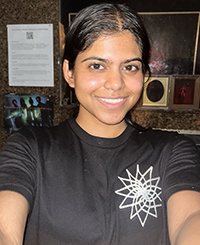 Upon returning to New Jersey from Arizona during winter break, I was planning a day trip to NYC and found that I had saved a place called "Holographic Studios" in my maps app under the "want to go" category. I couldn't recall when I had previously stumbled across this place, but it certainly seemed to meet the criteria for a fun and fulfilling way to spend a day in NYC. As I went on the website you're reading this story on, I found out about the internship opportunity and called up Holographic Studios. In the most encouraging tone, Dr. Laser invited me to come the following week. That night I emailed my application to him and was filled with an excitement that would only get bigger.

The grand display of different types and sizes of holograms (including the microscope hologram that starred in a viral TikTok we made!) evoked an instant fascination in me. My main intentions were to better understand the nature of light, especially since a huge gap in my knowledge was grasping how holograms worked. Even though I'd done prior research on the science of holograms, I found myself perplexed at how they were made and how they worked. Thankfully, Dr. Laser is loaded with explanations that involve clever yet accurate metaphors and analogies that demystify even the most esoteric concepts. It was also an absolute joy to assist with the tours! We'd get visitors from all over the world, from all walks of life, and of all different ages. Assisting with the live creation of a hologram and hearing the guests' questions coupled with Dr. Laser's thorough responses further satisfied my curiosities. The holograms unlocked new levels of awe the more I began to understand them.
Of course, more than just holograms, I enjoyed how much this experience taught me about the world we live in. My conversations with Dr. Laser edified me with mind-blowing explanations of historical events, science concepts, and SO MUCH MORE! Dr. Laser is a true polymath and having access to his brain was awesome. There was so much cool specific knowledge I truly couldn't have acquired anywhere else, including the insight from his stories. He's had a wide span of life experiences and drops wisdom on the daily. I learned what it takes to be an entrepreneurial artist, particularly discovering a lot about the human factors side of it. He's dealt with all sorts of people in a wide range of pursuits and his captivating way of telling stories truly inspires me by showing how exciting life can be.
Showing up at Holographic Studios became the continuous highlight of my day. During my time there I found myself constantly typing all the wisdom and knowledge I had just gained in my notes app about because I recognized how important it was for me to retain it all. Normally I have the generational problem of unnecessarily mindlessly going on my phone, but the activities and conversations that kept me busy during the internship were so captivating that I pretty much only used my phone for the notes app. Dr. Laser blew my mind and now I can blow other people's minds!
Overall the internship was filled with great laughs, real-world problem-solving, cool hands-on tasks, exhilarating visuals, and insightful conversations. Every day was spent learning cool things and feeling immense awe. Pursuing an internship here turned out to be the perfect way to spend my university's winter break, thank you Dr. Laser for doing what you do!
Jesse, 2022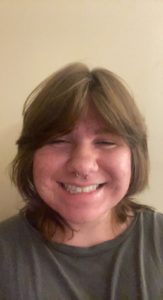 Before coming to Holographic Studios, I did not realize the intricacies of holograms and the holographic world. When I thought of a hologram, I would imagine a haunted house where the eyes of the portraits would follow you. But it is an art unlike any other; It is playful and exciting. It uses are unlimited, from goofy glass to detailed educational diagrams of the human body. Every day I would come into the studio I would learn more about the process of holography as a photo medium, but also the physics behind it. Growing up in Georgia, I focused my education on the STEM pathway. In high school, I committed myself to learn everything and anything in hopes that I would excel in the future. As I continued throughout high school, I fell in love with art and completely derailed my previous ambitions. I ended up getting accepted into Parsons School Design and believed that I would no longer do anything in the STEM field. But working in the Holographic Studios, I learned that all artistry requires science. I never thought I would be able to combine my two passions and yet here I am!

I applied to Holographic studios not sure if I would qualify, but when meeting Jason, I was assured that I would learn the ins and outs of the trade. Jason is a wonderful teacher who is able to take the most complex terms and simplify it so it is accessible to all. He is truly a master of his craft! His experiences are unlike any other. Along with holography I learned the importance of business practices as well as the importance of connections. A chance to talk with Doc Laser is an opportunity like no other!
An internship with holographic studios is an opportunity of a lifetime no matter your interests. If you are a lover of learning you need to come stop by!
—
Jesse Cope
Harli, 2021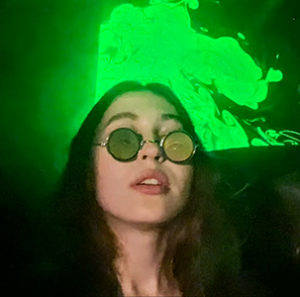 I began my journey with holography around 2017, when I happened to come across it during my study of physics. It was like finding the love of my life. It fascinated me to an outstanding degree and nothing else came close to it. I quickly noticed its artistic potential and thought about introducing it to my art practice. I began to search for studios where I could create holograms. I felt dispirited to learn that there aren't almost any functioning places. I found out about the Holographic Studios yet I was in Europe and at the time it was entirely out of my reach. I dreamt about going to New York and visiting the mecca of holography. Miraculously, I was chosen by my university in London for an exchange to Parsons School of Design for the 2021 Fall term. It felt dream-like to finally receive this opportunity. Having arrived in New York, I didn't know what to expect at the Studios. Will I meet the owner? Will I just look at the holograms or perhaps I could participate in something more? As I approached 26th Street I already felt emotional seeing the special banner. I was blown away to meet Jason Sapan on the spot. We immediately dived into our holography talk, it seemed that the conversation could be endless. My experience with the Holographic Studios didn't end with that one visit. I was told about the internship and after sending my application I was thrilled to be able to join. Since I could stay in New York until the end of the year I would stop by the studio from September to December. The moments I had at the Studios are my major highlights of this period. With each visit I collected new information, memorable discussions and laughs! Dr Laser's humor is one of a kind, just as the special tricks he would demonstrate. In this remarkable atmosphere I expanded my holographic knowledge in both theory and practice. Moreover, I gained insight into the reality of running a business. We would execute client commissions which also involved making holograms in the laboratory – what I hoped for the most. I was lucky enough to assist in a very special project. Namely, I helped with the lighting set up of "The Warhol holograms" for an exhibition at the Aspen Art Museum. The work was executed by Dr Laser with Andy Warhol himself. Witnessing the piece and participating in its preparation was as if encountering history in flesh. I will deeply cherish these memories.

Dr Laser is an incredible person whose life experiences are truly astonishing. Are you curious what Andy Warhol was like in person? Would you like to hear the tea on certain holographic history nuances? Dr Laser knows it all. Meeting him allowed me to finally unravel the mysteries which I encountered during my research. I regret not having contacted the Studios as I was writing papers about holography for my Diploma. The works would be far more informed, given Jason Sapan's knowledge.

If you're into art or technology, this internship will surely meet your interests. However, I believe holography should receive far more recognition and I am convinced that everyone would find the experience valuable. You don't have to be artistically or scientifically-oriented. If you wish to learn more about holograms, no one explains it better than Dr Laser. Although holography is akin to magic, you'll soak up the special knowledge in no time, even if you're far from a physics champion.

I already miss the Holographic Studios and I hope to be come back again! From the bottom of my heart, I recommend the internship to everyone.
Harli
Logan, 2020
After working with Doctor Laser, I can comfortably say that I will never have another internship or job nearly as interesting or inspiring. It was my junior year of high school and a great number of my other friends had internships at larger companies and businesses, so I, not knowing what to fully expect, decided to apply to intern at Holographic Studios. I knew going into my internship that most interns are just handed grunt work like copying documents, getting coffee, and generally just doing anything the employees don't want to. This was nothing like that. Between making a cube with a fully three dimensional picture of a brain on it, to just sitting around and talking current events in between projects, this internship was a blast all the way through.

Among the myriad of interesting and enjoyable things you could do at Holographic Studios, some of the most interesting times came between when we were shooting holograms or cutting glass panels, when there was nothing to do but wait around and talk. Doctor Laser relates the realms of science and fun in ways you wouldn't normally imagine, and I learned more from sitting in on the tours he ran than I ever would have anywhere else. I am truly grateful for the experience I had interning at Holographic Studios, and I wouldn't have changed a thing about it.

Except the ending. I stopped interning because the outbreak of COVID – 19 was declared to be a pandemic and, as you would imagine, that messed things up to a considerable degree. Although I suppose a wacky and interesting internship deserved a wacky and interesting ending, just not a terrible one. Nevertheless, the abrupt ending that my internship suffered won't deter me from visiting Holographic Studios sometime in the future, and stepping back into the wide and hidden world of holographics again. If you want to go into fields of science or engineering, or even art and photography, this is the internship for you.
Lora, 2019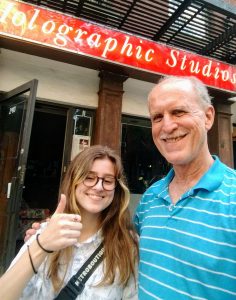 I did an internship at Holographic Studios last summer (2019) for 3 weeks and let me tell you, those were 3 weeks I will not forget! It was a wonderful experience where I felt immediately welcomed. Learning about holograms was something I never imagined I would do, but it is now something I can proudly say I spent some time learning about. Dr. Laser (Jason) is a major part of what made the experience so memorable. His knowledge about topics exceeds just lasers- he has a presence that captivates you into wanting to learn more, no matter what it is. We got along quite well and always exchanged witty banter, which was a blast!
The internship is not a strenuous, stressful experience; it's quite the opposite. I got a chance to meet and talk to a lot of interesting people that would come into the gallery just to browse and people that would come for a tour or workshop. Although some days were slower than others, there was always something that could be done (plus I'm never against just hanging around and chilling!) So, if you are wondering whether you should do an internship here, I say go for it. Just be prepared to deal with all the blabbering that comes from Jason's mouth (i'm kidding!…or am i? You'll have to see for yourself) And if you're not sure if you'd want to do a whole internship, simply visit the studio and your mind might quickly change!!
Thank you doc for a memorable and fun 3 weeks! Many fun stories came from it and I hope to visit again soon 🙂
– Lora, 20, from Toronto
Barbara, 2019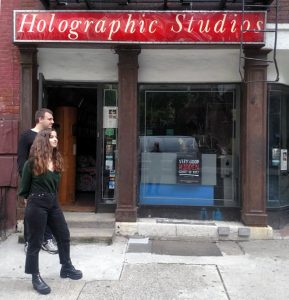 What a strange, curious, and winding world Doctor Laser has created for himself and unsuspecting visitors of New York! When I first met Doctor Laser, I instantly admired his iconoclastic spirit. Holographic Studios invites you inside and grants you an intimate access to an art form otherwise kept secret from conventional art museums. Interning at Holographic Studios taught me that I in fact know nothing about the endlessly fascinating fusion of art and science. While the science continues to befuddle me, I remain charmed and delighted by the holography process. Doctor Laser brought me into small, yet fantastical world full of well kept secrets and I am grateful for this experience!
James, 2019
I am a second-year Graduate student studying Museum Administration at St. John's University, and met Dr. Laser while attending a class field trip to Holographic Studios during the Fall of 2018. I found the tour of the museum to be absolutely fascinating, and it sparked my newfound interest in holography. I could tell that Dr. Laser really enjoyed his work, and wanted to share his knowledge with us. At the end of the tour, he gave each of us a souvenir to take home of holograms that he had created. Dr. Laser made the experience incredibly fun and memorable, and I stayed behind to personally thank him. Several months went by and I kept thinking about how wonderful it would be to return for a visit. Then, during my Spring semester while I was selecting my classes for the Fall, I decided that I wanted to do an internship during the Summer of 2019 as well. I immediately thought how amazing it would be to actually work at Holographic Studios. So, I applied and began interning shortly afterwards. Whether working on special projects, press releases, assisting with tours, or any other task (be it large or small), Dr. Laser is a great mentor. His knowledge is invaluable, and his energetic, positive attitude made it a pleasure to work there. When my internship was over, I even stayed on a little longer because that is how much I enjoyed it. Dr. Laser taught me not only about holography, but that hard work, dedication, and doing what you enjoy is very important. I would definitely recommend an internship at Holographic Studios to others.
Jimmy, 2018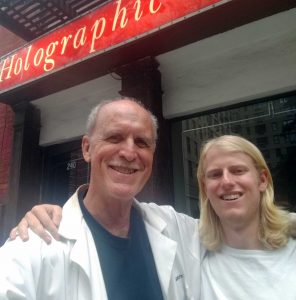 I first met Doc Laser on a rainy Sunday morning, where we set up an illusion for a CBS morning show. As he drove me home that morning, we began to talk about art and about what he does, and he told me something I'll never forget: when it comes to art, people know the tricks. Whether you're making movies, writing books, or shooting holograms on film, people know that what they're seeing isn't real. But if you do your art well and at the end they're sold, then, just for a second, you're a god.
Each day as I went in, I watched Doc Laser create this magic, and be a god for all the people coming into the studio. And eventually, as I learned more and more, I was able to create the magic too. Holographic Studios is one of the most unique places in New York and probably on Earth, and I'm so glad that the man running it is Doc Laser, as his boundless energy and wisdom made me excited to go into work everyday.
This was such a unique, fascinating, fun, special, and unforgettable experience, and I'm so excited to have a place in New York that I know I can visit and be welcomed with open arms.
Isabella, 2017
Working with doctor laser opened my eyes to a whole new universe. I knew very little about holograms before coming to Holographic Studios. What I have learned about them I know will hold meaning for me for the rest of my life. Through assisting Dr Laser on what felt like an endless amount of tours, I learned that holograms are made up of tiny tiny light waves. If you put a hologram under a microscope you could be able to see "a single cell amoeba". That is how powerful they are, they are truly records of reality. Dr Laser understands the connection of science and magic more than anyone I have ever met. The way he explains his medium can amaze anyone, no matter what age or level of knowledge.
Helen, 2016
It was the first day of my internship at Holographic Studios. Was I being overly polite? My outfit too casual? Dr. Laser's warm smile and enthusiastic eyes instantly settled my nervous mind. The museum seemed small upon first glance, but soon enough my eager, searching eyes rested upon a holographic plate carefully displayed in one the vintage glass displays on my right. A new conception of space overcame me as I slowly approached it, unaware of my jaw-dropped, stupefied expression. Staring as an omnipresence into an alien world that looks just like our own world, only separated by a sheet of glass. It was the starship enterprise flying through space! A collection of extra-dimensional portals, that's what this place is. Is that a life-sized, animated image of Popeye in the corner of my eye? A dancer floating in midair? I soon found out that each masterpiece is also adorned with wondrous stories.
Holographic Studios is the supreme place to experience the magical and alchemical aspects of optical science and engineering. It is underground in every sense of the word- the laboratory is for one, literally underground! It is also highly original, experimental, full of creative potential, and definitely does not conform to the typical standard.
Once I entered the humble niche in the heart of the bustling beehive of Manhattan, I entered into parallel space and suspended time where nothing is quite what it seems. Photo documentation really cannot do justice to the mind boggling experience of foolishly trying to grab an obviously 3 dimensional pair of earrings trapped inside of a 2 dimensional holographic image. It is jaw-dropping, stupendous, and will surely sweep any curious human right off their feet.
Besides from getting to hang out with the witty, hilarious, and overwhelmingly kind Dr. Laser, I had the privilege of poking my head into the incredible history and potential of holography as both an art and science. I am overcome with wonder at the incredible capacity of holography to capture and display the properties of light. Dr. Laser is very generous with his expertise in visual illusions, optics, and all things holographic. He allows all curious people from the myriad walks of life equal opportunity to probe his blasted open mind. Whoever finds their way to this whimsical world, will walk away with the lasting gift of understanding something fascinating about this unique discipline.
My own fascinations and dreams brought me to Holographic Studios, and I leave with a renewed sense of trust in infinite potentiality. It is up to each of us to integrate the limitless possibilities of our dreams with the logical, rational workings of physical reality. Holography teaches us to look at things from a multitude of angles and perspectives- to never be stuck in one way of looking at the world. It takes a very special kind of person in a very special kind of place for something like this to exist in the free-spirited way that it does….and here it is!! All visitors and future interns alike, seize the opportunity to become a part of the enthralling story of Holographic Studios!
Kevin, 2015


If I had to choose a word to describe my time at the Holographic Studios, it would probably be "crazy."
You'd be surprised how much one can fit into a small storefront in the middle of Manhattan. But Dr. Laser knows how to make it work. Every day we had a different task in a different area of the studio; sometimes downstairs, shooting a new hologram, sometimes on the computer editing the website or putting together a video, other times giving tours to whoever happened to stop by.

It's not an internship just for scientists or engineers. In the course of my time at the Holographic Studios, I learned about art, science, culture, and history, while also picking up a whole host of practical and social skills. All of that comes from Dr. Laser himself, who really is the heart and soul of the lab. There's no such thing as boredom when you have "your most eccentric uncle" as your boss. He's incredibly knowledgeable on everything from the optics of lenses to the best way of repairing a door to exactly who showed up on each episode of Celebrity Jeopardy. Not to mention that he's one of the funniest guys you'll ever meet. I had a great time just talking to him occasionally for hours on end.
Look to venture into Dr. Laser's subterranean laser laboratory. It's something that you won't want to miss out on.
Jose, 2013-2014
Working at the Holographic Studios was one of the most interesting experiences of my life. When I started out in the studio I was really shy and had no idea what this would be like, but with the guidance of Dr. Laser I became confident and smarter. Interning here was a great experience that I will remember forever, from working on a hologram to cleaning the floor it was amazing. The best thing about this place was Jason. Not only is he an interesting peron but he is wise and clever, he knows so much and always keeps you entertained. There were days in the studio where we just sat and talked for hours. Although those times are now behind us I will continue to visit every once in a while. The Holographic Studios is like no other place on earth I would recommend anybody to go even if its just for a nice conversation with Jason.
Danny, 2011-2012
I think working at the studio has truly been an experience to remember. The best way to describe it is that he's the DOC and I'm MARTY MCFLY! While I was there we certainly made the best of a bad situation at the beginning of my internship from SOF. When the hurricane hit us there was flooding in the basement and the neighboring studio. It was a shame because a lot of stuff was ruined and molded. After intense spraying of Lysol, smelly clothes, and touching weird things Doc didn't know he had anymore, we really cleaned up. There was always something going on even if there wasnt. You could always find something to do at the studio. Here's a list:
-share photos, -share wifi, -eat with our friend Tony, -talk about good memories, -plan anything ( holograph, what to clean, next video), -design web pages, -clean stuff, -get rid of old junk, -go to Pinkberry, -find parking spaces, -enjoy nature, -go to the hardware store, -make funny instructional videos, -fix broken anything, -avoid gross things for as long as possible, -meet clients, -mix chemicals for developing holographic film, -tell jokes, -watch and talk about funny Internet videos and movies, -use lasers for special effects, -host and work on music videos like the one I got a credit on called "Twilight" by Aris.
And those were just some of the cool things that I did while at the studio. Jason has truly been a great friend and although I am not interning there anymore, I will continue to visit the studio.
Jessica, 2010
At first I was terrified when preparing to get ready for my first day at the holographic studios because I did not know what to expect. I had a vague idea about the technicalities of making a hologram, but did not have any prior experience with creating one. Being a sophomore in college, I had heard a bunch of horror stories of internships in Manhattan either being really stressful, boring, or a waste of the student's time. This internship is not any of those! If you think this internship is a stereotypical internship where you just get coffee or sitting at a desk all day, boy are you wrong!
You get hands on experience and walk out with a thorough knowledge about holography. Every day was different, whether it be dealing with a different project around the studio or a new client. You also explore and understand Manhattan better while working here. While not working and hanging out in the studio, there was always something to joke about, whether it be impersonating celebrities or watching the human centipede trailer.
If you have a chance to work with Jason, or even if you don't, at least talk to him. He is a valuable mentor and a cherished friend. This internship was a truly fantastic experience and I highly recommend it to any student interested in the arts.
Martin, 2009
Dear Doctor Laser,
Working for you was the greatest decision of my life. Joking aside, it was a great experience. You taught me not only about the world of laser technology and holography, but also, your humorous stories taught me a great deal about life and business. Thank you for letting me work for you in a professional manner and I highly recommend you to anyone looking for an internship in an artistic field.
-Martin Flores
Deon, 2009
I met Jason in 1996 at the tender age of 22 while studying film at the Tisch School of the Arts at NYU. After hanging around the studio for 14 years, I thought it time that I learned how holographic products were made. This conveniently coincided with an early mid life crisis which occurred after I got a Masters in Education through the Arts in Education program at Harvard, and then didn't know what to do with my life. I turned to Jason, who took me on as an intern. There I became engaged in assisting Jason in his labyrinthesque studio, which like the pentagon or an Egyptian tomb had been constructed to be intentionally disorienting, obscuring a path to power and treasure. We worked on an award to be presented to Bill Gates. We were shooting holograms, positioning the model, affixing lasers, and wiring a motion sensor into the base of the podium. As is the case with all worthwhile experiences, the highlight of my journey as an intern in the Holographic Studios was not what I expected. It was not my increased mechanical prowess, or even my deepened understanding of the space time continuum. I always sensed as a kid a kind of exciting ethereal, primordial phosphorescence in the lab. In this place of multidimensional photography, I came to know it more as a space of multidimensional thought. This metaphor emerged for me throughout the years, the more I spoke to Jason about his paradigm shattering ideas. During my internship Jason introduced me to his theory of the Self Actualization of DNA. That is, the idea that not only does DNA use us as a host to propagate itself (our role as host being our primary purpose) but that the DNA itself is intelligent, possessing an overarching consciousness. The question of consciousness is currently being approached most visibly in the world of neuroscience, where the race is on for what we call the Neural Correlates of Consciousness, located presumably, in the brain. Jason's idea is that the pulse of consciousness lives not in the mechanics of our heads, but in DNA itself. I'm currently building a career on this idea, ending my midlife crisis and restoring direction to my world and peace to my mind.
Ben, 2007-2009
Working for Doctor Laser was one of the most beneficial experiences of my high school career. If you're looking for an internship making photocopies and brewing coffee, this isn't the place for you (but there is coffee. Lots of coffee.) Every day there was something new to do: shooting cockroaches with lasers, designing and building electrical devices, making and developing holograms, and I enjoyed it all.
Working at Holographic Studios isn't a mindless job, problem solving and lateral thinking are necessary to succeed here. Doc is a great mentor and teacher, working with him I learned how a small business is run, about physics, film development, and chemistry. My time at Holographic Studios won't be something I'll ever forget, not only did I learn indispensable skills, but I made friends there that I will have for a lifetime.
Niamh (pronounced Neeve), 2008
Niamh at her always present MacBook.
I am a media artist in my fourth and final year of a BA in Fine Art in The National College of Art and Design, Dublin, Ireland. To sum up my time spent in The Holographic Studios would be like writing a reluctant and unnessecary epitaph, as to do so would signal the end of something. And I'm a massive fan of unendings, inclining toward a posthuman subscription to immortality. So instead here are a few highlights of my summer internship 2008, a list which will have many additions as I will be around bending Jason's ear about one thing or another even after the cryogenic people thaw me out (sorry Doc).
Working on a piece to be presented to Bill Gates.

Responding to an initial enquiry about a commisson from Calvin Klein.

Sourcing Jerusuluem Stone in an amazing stone dealers in Brooklyn.

Learning a more organic approach to holography; comparable to the difference between your granny baking a cake and you desperately following exact measurments and ingredients from a cookbook. Jason is your granny in this metaphor.

Grasping how metaphors can be used to effect without sounding too naff, and finally feeling ok using them… sometimes.

Making GIFs for lenticulars.

Learning about Pepper's Ghost.

Talking about John Lennon.

Talking about Einstien. And pirates.

Killing Waterbugs.

Learning the little histories of the area and the greater ones of the city and the rest of the US.

Attempting to impart some Irish culture on America (don't ask Jason to say hello in Irish, he's terrible at it).

Getting lost in the underground maze. Its like a cross between a lab and Francis Bacon's studio. And it's dark.

Learning how to see in the dark.

80's music sessions on youtube.

My first sushi.

My first White Castles.

Having a source of endless encouragement.

A re-affirmation of reasons and desire to be an artist.
Brandon, 2008
Brandon in front of the celebrity signature wall.
If I had to sum up my experience at the Holographic Studios in three words, it would be informative, creative and entertaining. I interned with Jason during the fourth quarter of my senior year of high school for school credit. I learned many things in Jason's studio, only one of which was how to make a hologram. I gained experience in casting and mold making. I got an intro lesson in soldering, thought I wouldn't trust myself to rewire any electronics just yet. And obviously I learned the ins and outs of setting up, capturing and developing a hologram. The creative side of the internship came during preparations for holograms and just in general conversations with Jason. Generally before Jason captured an image he would ask my opinion about it. Whether I was right or wrong, he would decide. But the important thing was to get me involved in the creative aspect of spacing out the objects in the frame of the hologram. I have given my input on several projects including a hologram of a scaled down ziggurat and a display for a prison museum. Also, Jason usually has something to say about almost everything, and a good portion of it will give you something to think about for a few days. I still don't think the theory of relativity has settled in to my brain yet. The fun and entertaining side of the internship comes from a combination of the general atmosphere of the internship, Jason's personality, and the backdrop of holography. I love almost anything that has to do with science, so naturally holograms would be an interesting subject for me to explore. But besides the scientific aspect, the placement of the studio on 26th Street in New York City makes it just about the greatest place in the world to have an internship. With a film studio on the left side of the building and a foreign restaurant on the right, its one of the most diverse locations in the city. More often than not I found myself commuting into the city early so I could explore Manhattan and find new stores and restaurants. My experience at holographic studios was beneficial to me on multiple levels; more than I had time enough to write down at this time. So if you have an interest in science, photography or art, pay Jason (a.k.a. Doctor Laser) a visit, it will be worth your while.
Brandon Sargeant
Jeanette, 2007 – 2008
Jeanette in front of the Holographic Studios during her acting debut.
To be a holographer is to be a hero. Let me explain by saying, making a hologram is the equivalent of making a dream. My friend and mentor Doctor Laser taught me this and possibly everything that resides in my brain. He taught me the ways of holography to better the world- to bring smiles to children's face and excitement to the eyes of all. Is a hologram made with science, or is it magic? The answer to this question is, both and more. Who is the scientist magician who knows the game the best? That would be the Doctor Laser, himself. On a warm summer afternoon i entered the studio not knowing what was in store for my future. By the end of the day I had become Doctor Laser's intern, and by the end of my internship, I had become a genius, hero, magician, scientist, movie star. Movie star, you ask? Ah yes, a movie star. Look for Doctor Laser and I in the upcoming thrilling movie "the order of redemption" starring one of this country's finest actor's, Busta Rhymes (and us). My internship has taught me more than one should ever be taught. I now own the key to the world and the secrets of all mysteries.
Have you ever seen a ghost? Or was it merely a hologram? Remember that, my friends.
FUTURE: a powerful holographic description provided by a real time system to better the ways of the world.
PAST: the present
Not a spec of light is showing, so the danger must be growing.
Yours truly,
Jeanette Hayes
Lindsey, 2007
                                                                          
Lindsey drying off her face mask and later viewing the hologram she made of it.
It all begins with a girl from Chicago uprooting herself to Manhattan in order to fulfill her long-time dream of learning the art of holography. The tale continues with her turning the corner of 3rd and 26th and heading east toward her destination. At this point, her mind is filled with great anticipation, yet has no idea about what is ahead of her at the Holography Studios.
She approaches the address which she has inked onto her left palm, the butterflies in her stomach arise from rest. Before the girl gets a chance to peep into the hologram coated store front windows he is upon the stoop, key in hand, smile on face.
"Well, here we go", she says to herself before the initial handshakes and introductions even occur. Subsequently, she follows him, Dr. Laser, into the studio and into one of the greatest months of her young life.
During her month long internship under Dr. Laser, the girl spends each day at the studio laughing, learning, conversing and producing. Together they prepare models for the hologram shoots out of various materials, communicate with prospective clients and chat with the gallery visitors. When it comes time to shoot the holograms, they head down to the dungeon/lab and Dr. Laser thoroughly explains to her each step of the shooting and developing processes. It is obvious that he is passionate about his work and truly loves to take people under his wing and teach them this art.
Through these weeks of work and banter, the girl from Chicago realized that she had not only obtained a mentor, but had concurrently made a friend. A friendship that will exceed her stay in New York and follow her through her future life endeavors.
Saul, 2006
I consider Jason Sapan to be one of the great scientists of America. He is the King of Holography in New York. He is one of the pioneering entrepreneurs in the field, and I am terribly humbled in the presence of his genius.
I was an apprentice of Jason's in the summer of 2006. It was an excellent learning experience. I got to work with business and science at the same time. One day we would be dealing with clients in the office, the other we would be working in the lab.
In a hands-on environment, I learned the art of hologram making. The studio was the demonstration room, where I learned how to engage guests and teach them about the products offered. I worked alongside Jason with all of the stages of holography, which involved very different types of lab experience all grouped into one lab. I was able to learn a tremendous amount in the fields of optics and materials science, and I appreciate the time Jason sacrificed to share with me his knowledge.
Holographic Studios is an awesome place to intern at, with a great location. Anyone who would like the experience of a lifetime should consider this opportunity.
Daniel, 2005
I found my internship at holographic studios to be valuable and fun. I learned a lot about the science and art of holography through discussions with Jason and hands on experience. I found many aspects of producing a holographic image to be exciting and fascinating. Particularly, I thought integral holography, which I had not known about before my internship, was really cool. Additionally I had the opportunity to sit in on business discussions and learned about attributes involved.
With regard to how the day passes, I found it to be a lot of fun as Jason is a funny and friendly guy. After no time at all, it's like hanging out with a friend at his… yknow, holographic studio. Plus, Jason is a totally chivalrous dude. This one time, a fire had broken out in one of the apartments upstairs and he took initiative of evacuating one of the neighboring tenants upstairs. He was even about to break in the fire escape window with a fire extinguisher to save two puppies (big awww) when fire trucks arrive and he decided to leave it to the pros. (not even kidding)
P.S. In case you were wondering, the fire department rescued the puppies.
Natasha, 2004 – 2005
My internship at the Holographic Studios, although unfortunately very short, was quite memorable. First of all, I think Jason is a wonderful person, very talented and knowledgeable, so it was very enjoyable to be in his company. The atmosphere at the Studios is very informal, we spent a lot of time discussing philosophical and scientific issues, or just sharing our experiences. I also met a few of Jason's friends, all of whom seemed very friendly and nice people.

Well, of course, it was an internship in holography, and we did shoot and develop holograms. Jason has explained to me the related color issues, i.e. why holograms may be of different colors, and how they change them depending on the angle you're viewing them at. Occasionally, we ran into problems, but Jason managed to solve all of them. I was amazed with his confidence that all the troublesome issues could be resolved. In many cases, I myself felt like giving up, but he remained enthusiastic and eventually found the solutions. That definitely lifted my spirit. Throughout my internship, alongside other projects there was one that we constantly ran into problems with. It was an integral hologram of a lady, and everything that could possibly go wrong with it, seemed to go wrong. It was almost mystical. But the hologram turned out very nice in the end.

We also built displays and stands for holograms. For that we had to use all kinds of different techniques of working with plastic, mostly. That's something I hadn't expected to learn when I started the internship. In the process, Jason told me how to make scupltures of plastic, and sometime soon he'll show me how to do it. As far as I understand, there is still a lot of research to be done on holography. Jason told me about some of his former projects, and we also discussed the theory of the Holographic Universe, which so interested the previous intern at the Studios. I think, holography is a field where science and art come together. Or at least you can make them come together, if you want to. In that sense, it is very special.

I am very grateful that I've had this wonderful experience. Before the internship, I knew very little about holography, although I was interested in it since I was a kid. Back then I couldn't imagine what kind of physical phenomena could produce those images, they were absolutely magical to me. Now my knowledge has increased, and I hope, will keep increasing, although I still admire holograms as much as I did in childhood.
Alexis, 2004
My first introduction to holography was through The
Holographic Universe

, by Michael Talbot. He suggests that the implications of the new medium could unravel the mysteries of consciousness. "If it was possible for every portion of a piece of holographic film to contain all the information necessary to recall a whole image, then it seemed equally possible for every part of the brain to contain all of the information necessary to recall a whole memory," (Talbot, 17). I was fascinated by the philosophical implications. However, in the summer of 2004, during which I was an intern at the Holographic Studios, it was revealed to me that Talbot's grasp on holography is weak, therefore his philosophical and scientific extrapolations are lacking. To begin with, his introduction sentence recalls the three-dimensional image of Princess Leia projected out of R2D2 in

Star Wars

as an example of a hologram (Talbot, 1). However, he is mistaken; it is merely a filmmaking technique, made to resemble a projection that is actually not holographic. Furthermore, in regard to his proclamation that one portion of a hologram can produce the whole image, Jason Sapan explained that every portion of a hologram will show only a segment of the whole image. In other words, a hologram that shows you a face turning, if portioned out, will produce a number of still images of the face in various degrees of turning. One portion will not reproduce the whole holographic image, only a unique perspective of it. Jason Sapan used the hologram as an analogy for life: whatever originates simply can be seen in terms of complicated fragments (imagine a tree from a seed, for example). Myself a student at NYU Gallatin studying Philosophy of Science, I found philosophy itself to be holographic: as a hologram is many perspectives, each unique set of a whole object, many philosophies may be seen as interwoven perspectives of the same human experiences. In this model of philosophy, consciousness may be the resulting hologram. In the

Holography Handbook

, holography is compared to linear perspective in how it could revolutionize art, mathematics, and perception (Unterseher, 339). ["Perspective is the method of representing three-dimensional objects in recession on a two-dimensional surface in order to give the same impression of relative position, size, or distance as the actual objects do when viewed from a particular point. Filippo [Brunelleschi] is generally regarded as its inventor, the one who discovered (or rediscovered) its mathematical laws," (King, Ross.

Brunelleschi's Dome

Penguin, New York 2000. p34)]. Like photography, I think holography will continually evolve; I see it entering the mainstream more and more. Hopefully, young artists will begin to truly exploit the medium, exploring new possibilities and experimenting with technique and observation.
Ami, 2002-2003
I found out about the Holographic Studios by surfing the web. I was looking for a summer internship and happily landed at the web site of the Holographic studios. As a fine art photographer, I was fairly interested and as I read more about Holography, my interest grew into a keen desire to understand the holographic process.
When I arrived in New York at the holographic studios, it was both nothing that I had expected and everything that I had hoped! The laser-lab looked more like something out of a mad-scientist handbook, than the pristine lab that I had expected and Dr. Laser was one of the funniest, smartest and all-around-great guys that I had ever met! While working with him I learned a great deal about Holography, and I honestly think that he is the best holographer I could have chosen to work with in order to really understand the holographic process.
There were many challenges in creating the holograms that we were working on that summer, but Dr. Laser could always find the solutions. That really helped me to understand that the job of a fine craftsman is much more than just putting a project together. It is knowing your craft and all the kinks and bumps that come along with it. It is learning how to approach a problem from many different angles, until you come up with the perfect solution. And most of all, it is sincerely loving what you do and wanting to share it with the world.
Dr. Laser is passionate about creating holograms, but also about teaching others how to be the best they can be. During my internship at the Holographic Studios, I not only learned how to make holograms, but also about New York, the world, people, myself and even a lot of useless information as well. Thinking back to all of the internships that I could have taken that summer, I do not think I could have made a better choice!
Crystal, 2001-2003
Crystal's interactive thesis presentation
I worked with Jason as an intern while I was doing my M.A. in the Gallatin program at NYU. For the fall semester I learned the basics of holography from him by asking tons of questions and helping him with individual and group classes. I learned the most though, acting as his "assistant" while he shot and developed his own hologram projects. By spending time in the lab, in his office, and in the gallery, I was able to explore many crazy ideas to try out for my own project at the end of the semester. I decided on shooting two holograms of three major parts of computer hardware.
Since I was in the Individualized Study program, my final thesis was to combine different disciplines and prove that my theories made some sense! It was titled "A Cybernetic Approach to Technoculture." I wanted to show the connections that exist between systems in nature, systems in the human body, and computer systems. Holography became one of the mediums that I incorporated into my artistic performance component, "Cybernetic Connections," which was an "interactive multimedia installation" set up for a few weeks in the spring of 2003 in Jason's gallery.
This project was constructed with the help of Jason in shooting the holograms and Chuck Lin for the computer programming and loaning of equipment. NONE of it would have been possible without the patience and guidance these two guys had!! I consider working with Jason one of my quintessential New York experiences for the wide range of advice and wisdom he imparted on me – from leaving a tiny fold at the end of a tape roll, to trying not to take the whole world so seriously…
If you are lucky enough to intern at the Holographic Studios, bring some good ideas and be prepared to learn way more than you could have ever expected!
Rafael, 1994-1995
Sophomore year in high school for me was filled with a lot of challenges. The most daunting of which was selecting a science project to present at competition. At first I thought that a project on erosion would suffice, but I wanted to be different and more challenging. Holography popped in my head especially after discovering that my high school already had a laser and holographic kit on hand. So, I tackled this new challenge and thought that I could succeed on my own. Needless to say, I failed and failed over and over again no matter how many times I read the manual.
I was on the brink of giving up when my mother, after seeing my frustrations, called New York information line. At first she was given the phone number to a holographic museum in Chinatown. Unfortunately though, they had gone bankrupt and closed. Another call was made and Holographic Studios popped up. My mother spoke to Jason Sapan, the proprietor and was informed of in-house lesson. I shortly began to take lessons, beginning in 1994 and into 1995.
My lessons were great and "Dr. Laser", that's Jason of course, made learning fun. Not only did he explained each step, he also allowed me to "dive in" and actually do the work. In fact the first time I developed a hologram, Jason warned me that any little cuts that I had on my hands that I wasn't aware of will become really obvious and painful after its made contact with the developer. Altogether, I made about 7 holograms with Jason's help and my favorite by far is the conical hologram of a die.
My internship at Holographic Studios may have been brief, but it was a very fulfilling experience that to this day I still look back to. At times it still amazes me that I actually did that and that I still retain most of the knowledge. I would recommend this internship to anyone at whatever age, its fun and has made for an interesting topic of conversation.
Chris, 1990-1994
Chris (seen at center) playing the role of Ulysses S. Grant for a Civil War hologram.
in-tern (in-turn), #3. Someone, as a student or recent graduate, working as an apprentice or trainee to gain practical experience in an occupation.
I never had any intention on being a holographer. To be perfectly honest, I had no idea what someone who worked in a Holographic Studio did. In the fall of 1990, my senior year at NYU, I knew that there was a Museum of Holography on Mercer Street.
A requirement of my degree was to hold an internship and to this point in my studies I had had several. One being fantastic and the other being horrendous. So as my final year in college began I wandered into the internship office and leafed through the big book of internships. The big book was a series of binders that had letters from businesses that NYU had already contacted describing what they did and who the contact was. At that point in my life I was interested in photography, so I was looking for something in that line of work. I came across the Holographic Studios letter and thought it looked interesting. I'm sure that my logic at the time was holography and photography, both end with raphy! They had to be connected. I set up an appointment to meet Jason Sapan. I remember it being a hot September day, and I rode my bike up to 26th Street. I was wearing an Around Long Island Regatta T-shirt. That's important because after I introduced myself to Jason we talked about sailing for an hour as I looked around the gallery. We talked about his boat that he kept at the 79th Street Boat Basin, and I talked about growing up sailing on the Long Island Sound. Jason showed me around the studio and he agreed to take me on as an intern. It was a great way to make an introduction to someone. I knew that I had no idea what holography was about or how it worked, but we both had sailing in common and that was a start.
When I started at the Holographic Studios, there was another person working as well, Chris Wetzel. Chris had been an intern at one point who moved into a paying position at the studio. At the time I started the studio was working on a toy project with a local businessman and finishing up a major job for Hyatt Hotels. There were also orders coming in from shops around the country. As Jason was the only integral holography (moving image) studio, he had a corner on the market. Jason would fill orders not only for integral holograms but stickers, and other assorted items. The studio sold the integral images housed in a plexi-glass display and when viewed correctly, the images moved. As the orders came in there were several jobs to take care of. The studio usually kept spare images around so they were available to ship. If not, we would have to make prints in the lab. Making a holographic print is very similar to making a print in photography. The holographic film is light sensitive so we worked under safe light in the lab beneath the gallery. After exposure, there is a five step process; the print must be washed, then bathed in the developer, washed again, then into the bleach, then washed again, squeegeed, then hung to dry. Chris and I also mixed the chemicals to make the developer and fixer; you can't just run out to the local camera shop and buy holographic developer. I always liked going to pick up the raw chemicals at this warehouse on the West Side. There was this guy who worked there who had a chiseled face that said, "of course I work in a warehouse that sells wholesale chemicals." I can still smell the place. It is the type of place that you would never know about unless you did this sort of thing. I discovered more of that as my time at the Holographic Studio increased. We also made the displays that housed the images. Jason had devised this foolproof system for molding the flat plexi-glass. I'd have to say it was intern-proof. Not that I didn't make mistakes, fortunately Jason is a patient man.
I don't recall my exact hours when I first started at the Holographic Studios, I'm sure that the minimum time spent was dictated by how many credits my internship was for. Seeing how the studio was only open from noon to six, I think I went almost every day. Part of the learning process included getting to know the world that the Doctor, as Jason is called, lives in. The Holographic Studio has been at the 26th Street location since the 1970's so the Doctor is a sort of de-facto mayor of the block. Many local residents would stop by and you would get a sense for the enormous extended family around the studio. A trait that Jason is proud of is that many of his past interns still stop by to see what is going on, I am glad to say that I am among them. It was part of your initiation to determine who was a client and who was just over for a visit. Sid, the mad scientist who worked at Bellevue, Paco was an old intern, who was working as a computer programmer. Chris' girlfriend, who worked as an exotic dancer was always a riot when she stopped in. Every order called into any local shop was for Jason, no last name, everyone knew who he was. I was getting a lesson on the sociological structure of a small slice of New York City. Jane Jacobs would have been proud.
As the fall semester was winding down, Chris announced that he was leaving the studio to pursue his film making career in Los Angeles. As luck would have it, I had accumulated enough credits to graduate, so I no longer need to take any classes at NYU. With little fanfare Jason hired me to replace Chris. Life at the studio continued as it had before. I began to take on a bit of the administrative duties such as sending out price lists, typing out bids, fielding calls and inquires from potential customers. Jason, who lived next door to the studio, would check in or I was able to page him and forward any important calls. As his wife was pregnant, he was spending time preparing their house for the arrival of their daughter. Which was my introduction to cabinet making. When it was slow at the studio, we built a small little room for the newborn off of the bedroom. The more time I spent with Jason at the studio I realized that he was an incredible storehouse of information on any number of subjects. Of course holography is a science, thus his nickname, so Jason had a very practical way of approaching a subject. I was always amazed at how simply the Doctor could explain the process of holography to someone stopping in to view the gallery. A gifted teacher is someone who can take the most complex issue, and explain it so you can understand it.
Patience is a learned virtue. As I grew excited at every phone call asking for a price quote Jason would answer every question asked, and the business was almost always never heard from again. The spring had arrived in the city and the toy project was ready. We had done many test images, worked with the designers of the display to improve visibility, talked about packaging. We had set up a meeting with the client to secure the first payment so we could begin production. The order was for thousands of holograms, the mother load! The meeting just so happened to coincide with the birth of Jason's daughter. He returned from the hospital and we awaited the client. He arrived with his partner, who we had never met. I'm still not sure what happened next. There was a brief meeting and then it was over. My best guess was that the client was hustling whoever his partner was, and we were in the middle of it. What was actually a good idea that could have potentially made the studio a handsome profit all fell apart that morning. I remember that it took Jason a while to explain it to me, as I came in the middle of the process and could not believe it. The client, like so many others, was never heard from again.
The big call finally came. A contractor for a potential trade show job for the United States military contacted us. We were eventually to produce six 360-degree holograms depicting major moments in the history of the military. We had to hire a director of photography, actors, costumes, and several assistants. The studio was to handle all the details, and I coordinated the many facets of the job. The military put us in touch with people who could assist us with the authenticity of the holograms; the uniforms, insignias, weaponry, etc. We shot a revolutionary war image with George Washington, impersonated by Jan Leighton. For the civil war image I got to play Ulysses S. Grant. We turned the gallery of the studio into a Vietnam foxhole complete with sand bags, smoke and general chaos. We went on location twice, which was the best part. We traveled up to Rhinebeck, New York and shot one of the two existing World War I era bi-wing planes at the aerodrome. We were granted permission to shoot on an Airforce reserve unit in upstate New York. This base had an authentic Huey Helicopter. Jason and I tried to get a ride, but we were told no, against military rules. Nevertheless, it was very cool. Our entire crew had to wear ear protection, and use hand signals to communicate with each other during the shoot. It was a monumental job. Jason had enough confidence in me to let me coordinate the logistical side of the shoot.
After you are involved in the day by day operations of a unique business in New York City you learn a few things. The Holographic Studio was a soup to nuts operation. I thought I was going to learn about holograms. I wound up spending about 3 years working for the Holographic Studios. Sometimes the most interesting places are the ones that you might just stroll past, and think nothing of them. I didn't just stumble across the studio, I was lucky enough to intern there.
Jackie, 1990-1992
" Hi my name is Jackie. Back in 1990, I was given the opportunity to do a work study program in my senior year of High School. At the time I was an art major and minored in Photography. So when my photography teacher mentioned to me that there might be a place for me to learn a different kind of photographic art I quickly made my way down to this place. I didn't know what I was in for.
It was around October of 1990, when I made my way to the Holographic Studios on 26th Street. All I could think was WOW. I had never seen anything like it before. The thought of seeing a photograph in a totally different level was amazing. I was given the opportunity to learn how holograms were made from start to finish, from conception to execution. I also got to learn how to set up display cases and how to manage an art studio. The work environment was so friendly and warm that you couldn't help but feel like your part of the family. Let us not forget the owner of this exordinary place, Jason Sapan.
Jason Sapan was and still is a wonderful teacher and friend. He took time out of his busy schedule to teach me all of the ins and outs of the art form, something that I will carry with me always. If you are one of those people out there in the world that hasn't experienced this spectacular place then you don't know what you're missing. So clear up an afternoon and head down there and it will be an afternoon to remember."
Jacqueline A.
Andrea, 1987-1988
                                                           
Andrea on a coffee break in Palm Desert, California, and the laser show that night.
I started working at the Holographic Studios in the summer of 1987……
and it all started with the eyeball. I grew up with plastic models of eyeballs around the house, my dad being an eye doctor. I knew what glaucoma was from the age of 5, and could tell you all about the many layers and parts of the eye. I thought the coolest thing in the world was the eye bank, which I imagined as a long shelf full of eyeballs floating in glass jars. When I discovered there was a class in optics and holography at my college, it was a natural for me to sign up.
We were very lucky – our optics lab had a floating table, giant Helium lasers, and optical equipment donated from NASA. Naturally I couldn't wait to get into the basement of the Cole Science Center to see what it was all about, and indeed, from the first Sparkling red beam I ever saw I was hooked.
Being a New Yorker I was able to make many trips to the Museum of Holography on Mercer St when I was back at home. Wherever there was a hologram show, I was there. I was really fascinated by this strange new way of making pictures, of capturing light. I continued to study holography in college. Our teacher, while very engaging, focused on the technological side, which was ok, but I really wanted to get my hands dirty. So I took a semester off to learn from a real master holographer – Dr Laser. I was so happy to do an internship for one summer, and ended up staying through the fall.
Jason Sapan, aka Dr Laser, ran his company like a ship – with many people constantly in motion, undertaking all sorts of different jobs, riding smoothly until the next wave came. The place was always humming. Jason really had a large following of people, friends all working together in various ways. I was involved with The daily running of the shop, which included maintaining the displays, most of which are still hanging to this day. We were also helping with the other displays on sale – the stickers, jewelry, and other novelties to buy. Then there were several laser light shows I was lucky enough, through Jason's generosity, to help out with. I studied and got my NY State Class B laser operator's license (before I got my driver's license!) There was one laser show in Philadelphia by the Liberty Bell, and one show in Palm Desert, California. It was fantastic to learn about the light shows, run by a computer-scanner system. It was also quite a feat to set up – with huge lasers balanced precariously on hotel balconies, and cabana rooftops. There were mirrors to be adjusted, and smoke machines to run around with.
It was a time when there was a big buzz about holograms – there was the famous eagle on the cover of National Geographic, and soon after they appeared on everyone's credit cards as a security device. My father had already learned how to do a vast majority of eye surgery using high-powered pulse(?) lasers. The medical community had embraced the use of lasers for all sorts of procedures. I believe it was the era of the reflection hologram, and vast amounts of cheesy stickers were being cranked out, ending up on kids' cereal boxes. I think apart from the stickers, which were mass-produced, holograms themselves (needing rigorous methods of execution) were costly to produce, and never made it as an art form for very long. But it seemed to me that great art could be made with this technique – it lent itself to an amazing ethereal quality.. Anyway I was certainly caught up in the world of holograms and thought it was somehow my destiny. Eventually and sadly, the Museum closed its doors due to mismanagement. They were the only ones to sponsor artist-in-residence programs. Eventually one by one the small shops closed. Jason's studio is the last to survive I believe.
Aside from the light shows, Jason made 2 portrait 360 holograms, which were actually filmed first, and then each frame made into a vertical holographic strip. In the studio, on a huge rotating turntable, sat Phil Donahue and then Salle Jesse Raphael. I think they just wanted these holograms for themselves, to hang on the walls in their homes. Also Jason was always helping to produce events with his friends – new types of holograms, new lighting technologies, computer technology, etc. . It felt as though this was the real frontier of the holographic world. Even books were coming out with the hypothesis that our brains are really composed like holograms, with each speck of grey matter a piece of the whole, the theory being that within one piece of a hologram is the whole picture, but from that particular angle.
For part of my final thesis project, I was also able to make a short educational video of Jason in his Studio, explaining the concepts of holography. We had a great time making it, maybe one day I can get it on youtube. By the end of the internship, I was also able to use the optics table and make a few holograms, which for me was the best part. Jason was so helpful and instructive and I learned so much from him. If it were not for him, I would never have had the opportunity to travel, to have first-hand experience, and to learn in the optics lab from a real master. I look back on those days with many truly amazing memories. I learned, most importantly, that real, practical experience is worth its weight in gold.
Cecilia, 1982-1984
Cecilia creating art with a laser and fiber optics in the lab
I cannot express in words how much it meant to me to have a mentor at that point in my life, someone who took an interest in me and developing my abilities, empowering me to do so many things from dry wall to electrical wiring, filming for the integrals, meeting with advertising agencies. I'll never forget the guy who was blind in one eye and couldn't even see 3 dimensionally. I loved every minute of it. The stench of diesel always brings me back to the depths of the water bug caverns of the laser lab. The beautiful light of the laser. The laser tunnels, the amazing meeting with John Cage, the art of holography itself is but a mere facet of the entire brilliant exposure to life that you offered me. I don't know if I can be more mundane and describe our daily rituals, what I remember most fondly were our visits to Sid, the Greek coffee shop, riding your bikes madly down town to drop off film, big parties in arty lofts. The smell on my hands in the copy tank…… The time we did a trade show and the idiot who thought his holographic portrait would be 5 dollars. I suppose you wanted me to write something like "How I learned to make holograms with Jason"…. Well I think it was so much more dimensional than that. I can't really give you a quick synopsis. We built a lab, we wrote press releases, we took limos sometimes others the wild bike rides to pay the phone or power bill before it was disconnected. We always were surrounded by interesting people, I wish I were there now.
Barry, 1981-1982
After so many years since my internship with Jason Sapan and the Holographic Studios, it is hard to explain exactly how that experience affected my life. It has had long term impact to be sure. Some major, some minor. Everything from the knowledge gained about LASERs and holography to interactions with people to my love of the game of chess. Living in suburban Greenburgh, NY and having the opportunity to go into the city several times a week was great. Jason would teach me many concepts such as timeliness (though from my tardiness of writing this for him one would say I need a remedial course in that) to integrity in dealing with people and to not take things too seriously.
My parents had recently been divorced when I met Jason. He took on a fatherly type role. Taught me things I wished my father had. Another person will have the added experience of his years of fatherhood that should have taught Jason a thing or two. I know that with my 11 month old daughter, I am learning and changing every day. He opened my eyes. If that makes any sense, to look outside myself and my box. Anyone who takes on an internship with Jason will be aptly rewarded. Sometimes I wish I could do it again, but I now need to take some of the lessons from that time and focus on my little one.
Oh yeah, if you go riding through the streets with him on a bicycle to pick up something, don't ride too close to him. Though do try to keep up. I learned the hard way.
Joanne, 1978-1981
Back in 1978 my live-in boyfriend, Alan, suggested that we check out Sapan Engineering on 7th Avenue and 24th Street. He was very excited and tried to convey to me how wonderful the world of lasers and holograms would be. His basic description was simply, "Do you remember the scene in STAR WARS when Princess Lea was in 3-D sending her warning? That's a hologram, only it's not projected, it's on film." I had nothing else better to do, so I went along for a look and from that moment on I was hooked.
I met Dr. Laser, Jason Sapan, and the rest of the crew without realizing what I was getting myself into. Jason with his usual enthusiastic personality and scientific explanations gave us a tour of the laboratory. My eyes were wide open and I was in awe. This was the first time I saw a laser and its pure-crisp, colored light. Dr. Laser rattled off a succession of projects that were being worked on and his most current claim to fame, the CBS Sports Spectacular opening logo. At that point, I decided that I wanted to volunteer my time and learn all I could about lasers and perhaps even acquire a laser license.
Shortly thereafter, Sapan Engineering became Holographic Studios and was relocated to 26th Street between 2nd and 3rd Avenues. The previous occupants was a gormet cheesecake bakery that made its home in a former Blacksmith forge. All I remember was a basement filled with thousands of cheesecake boxes that needed to be thrown out and a lot of fixing up to do. This seemed to take forever but it was for a good cause – to spread the knowledge about lasers and their inherent beauty. I was a dedicated Sapanian worshiper and would do what ever it took to get the place in order for the laser studio. This meant building walls, painting, scrubbing floors, creating a dark room and building an isolation table. Jason explained to me that the isolation table was like the inside of a giant camera and was not allowed to vibrate while taking shots. I always felt so small and insignificant when I was in the isolation table room like in Land of the Giants. Jason touched off the room with picture of the surface of the moon on the wall.
We were struggling holographers at one time and got very used to PB&J and coke. Our hours were long and hard but the cause was worth it. I met many celebrities and interesting people. The few that still come to mind are John Cage's 360 hologram because I love the piano. The turn-table stage took several days to build and had to be shot in the studio's gallery. Again, worth every minute. Studio 54, NYC back in its heyday was unforgettable. Once I earned my laser license, after taking a test (similar to an engineer test) and getting finger printed (laser were considered weapons back then), I was permitted to do light shows with Jason and crew at the clubs. This gave us easy access into all the big clubs and their VIP lounges, no velvet rope for us. The last time I was in Studio 54 was for a meeting with Steve Rubel and Ian Schraeger (the owners) the day before they were busted. Who knew there was hundreds of thousands of dollars above our heads that night.
In between assignments we took off on flights of fantasy with grand ideas for light shows in Central Park and from the Empire State Building. We had lavish parties with hundreds of people in the courtyard out back. I met Sid at one of these gatherings. He was some sort of mad scientist and was able to break down the components of any substance (pre CSI). There were countless people who remain nameless but who's faces I haven't forgotten. I remember a dinner meeting with a director of a movie and something about laser effects but I don't remember the details. There was a photographer, Stuart Craig, who took many pictures of the laser light going through fiber optics. He kept stock photos for future use. In one photo my hand was wrapped in fiber optics lit by two different colored lasers that made the cover of Scholastic's Science World and a poster. I finally become a cover girl! Also, I had the privilege of being part of two integral holograms one called, "Beauty and the Beast." No, I wasn't the beast, my exboyfriend had earned that honor and rightfully so. The second, a 360 hologram was for Remy-Martin cognac. I held a brandy glass with the bottle as the focal point. I can't remember if any alcohol was consumed.
We shot the opening to a ghost movie on West 4th Street. It had something to do with cats, faces in a mirror, and a rooftop. Another job which took several days was sewing fiber optics onto a butterfly pattern that Bob Makie drew for one of Cher's opening in California. Klaus Nomi, an up and coming avant guarde singer, artist, who was one of the first celebrities to contract AIDS and die was a memorable personality. Gene Simmons of Kiss asked us to do a hologram of Cher's album cover for her birthday. I guess he didn't get the whole idea of holograms needing a 3D subject. Jason and the rest of us actually went to do Macy's New York City windows with a water cooled Argon Ion Laser. The design was simple but most impressive. While working on the window, I enjoyed pretending to be a mannequin and watch the people walk by outside on the street. One of the most memorable assignments was one we did for the Museum of Holography (no longer in existence). We dressed in black and wore 3-D glasses. Jason's presentation started out serious but broke in a song and dance number that was befitting of a Broadway performance. We sang to the tune of the Jets are in town from West Side Story. Something like:
"The beams are in phase, you better be protected.
The beams are in phase, the wavelengths are selective,
they are coherent.
When you're a beam, you're a beam all the way
from your first photon in the metastable phase.
When you're a beam, you can shine through a man
you can shine anywhere from here to Japan.
When you're a beam you stay a beam!"
I have to say I learned a lot from Jason. I learned about life, lasers and he still remains a close friend of mine. Dr. Laser changed my life with the zap of the laser.